Mindfulness is a term we hear more often nowadays, especially during the advent of the Covid-19 pandemic. But what exactly is mindfulness? Why is it important and how does this relate to our general wellbeing?
Mindfulness is the act of making yourself more present in the moment. This is not necessarily only in the physical sense, but also the psychological sense. Being aware of your surroundings but also your thoughts and emotions. By being able to practice this regularly, you can learn to rationalise situations and really control the way you react to stimuli. This will ultimately have a positive impact on your
wellbeing, which consequently impacts on your overall physical health.
Mindfulness and mental health
It's not too hard to realise that being aware of your thoughts and yourself will probably improve mental health. However, research is still ongoing, but by being more aware of our thoughts we may possibly recognise the signs of stress and anxiety early on. It could be argued that this gives us the opportunity to manage any decline in mental health before it becomes too detrimental.
If you're over 16 the NHS website has a useful tool which may help you better understand how you have been feeling recently but it's important to note that if you're struggling with anxiety or depression you should talk to someone. The Samaritans is a great way to speak to someone without being judged or told what to do. They provide a 24/7 service and its's completely free.
How do you practice becoming more mindful?
The first step requires commitment and perseverance. You have to continually remind yourself to take notice of everything around you and within you. This includes the way you feel, what you're thinking and why, and really absorbing your surroundings and the environment around you. The more you practice this, the more you'll find that you begin to become more in tune with the here and now. This is the first step to becoming mindful.
What's the best way to implement mindfulness?

As the saying goes, "consistency is key"! We all have to start somewhere, and doing something is better than nothing at all. The best way to implement mindfulness, and to stick to it, is by selecting a regular time to practice it. It could be during your morning jog, on your way to work or in the evening when you're out in your garden. Appreciate the different smells, sensations, visuals or your surrounding environment. The more you acknowledge the external magic around you, the more you'll impact the internal psych in a positive way.
Try something new
Trying new things, or making small changes such as sitting in a different seat in meetings or going somewhere new for lunch, can also help you notice things in a new way. You're more likely to be aware of  the nuances in your surroundings and it gives you a new and hopefully more positive perspective on things.
Be in the here and now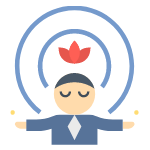 We often get engrossed in thoughts related to past events, or worry about what the future may hold. Put these thoughts aside and live in the present. Acknowledge that you can shape your future by focusing on the 'now'. Learn from the past and see it as a positive step to moulding your future. It'll take time and practice but it will help change your mind set about how you approach stressful situations.
Mindfulness and erectile dysfunction
There is some promising research that showed men who suffered from situational ED (erectile problems that occurs only during certain circumstances) benefitted from a mindfulness program. The pilot study was aimed at the feasibility of undertaking such studies so the sample size was very small and no real conclusions can be drawn from it. Interestingly though, the study showed that a mindfulness group therapy may offer a potentially promising treatment avenue for men with situational ED.
Healthy mind, healthy love life
Mindfulness takes time, dedication and practice. The mind is an extremely powerful organ and a healthy mind leads to a healthy body. A healthy body may consequently lead to a healthy and fulfilling love life.